Comic Shop Spotlight: Emerald Phoenix Comics
Feb 26, 2019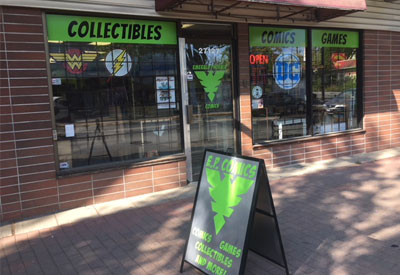 Emerald Phoenix Comics located in Aldergrove, British Columbia

OWNER: Chris Bodnar, Katrina Halliwill
NUMBER OF LOCATIONS: 1
NUMBER OF EMPLOYEES: 2
YEAR OPENED: 2012
STORE SIZE (square feet): 1,200
---

Favorite Recent Comic Book: Astonishing X-Men.
What has been your best promotion or event? We have our annual November graphic novel sale which always performs well, and of course, Free Comic Book Day.
What recent changes have you made in the store? We scaled back on games to focus more on comics.
What steps have you taken to expand your customer base or to reach out to individuals unfamiliar with your store or comics in general? A lot of social media for sure. Word of mouth is good for us, and we sponsor several local school events as well.
What are your plans for the near future? Simply to continue our steady growth in comics.
How did you choose your store name? I started as Phoenix Nest, but added Emerald when Katrina came on board. Emerald is a popular color in many of the sports team's uniforms in the northwest, including the Seahawks, Canucks and Mariners. Put that together with the never dying mythological bird and we have our name.
What superpower would you most like to have? May I have two? Flight and telepathy.
| | | |
| --- | --- | --- |
| Owner Chris Bodnar | A look inside Emerald Phoenix Comics | In store game room |
| | | |
| A mix of toys and games | Games of many kinds | New releases on display |
| Back Issues | Comics for the youngsters | |
| | | |
| | | |