Comic Shop Spotlight: Fenix Comix
Feb 26, 2019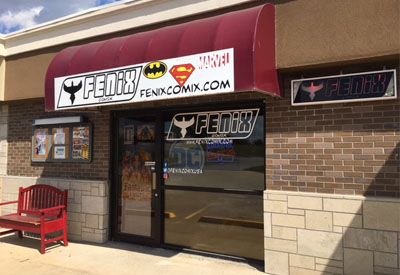 Fenix Comix located in Peculiar, Missouri

OWNERS: Rick, Erica, Jennifer, Phil, Jared, and Ginny
NUMBER OF LOCATIONS: 1
NUMBER OF EMPLOYEES: 8
YEAR OPENED: 2017
STORE SIZE (square feet): 800
---

Favorite Recent Comic Book: Bone Parrish and Bubba Ho-tep
What has been your best promotion or event? We had Bob Hall in to sign and it was a live streaming event too, which was very successful for us.
What recent changes have you made in the store? We re-arrange the shop at least once a month. We have expanded our comic and trade paperback selection, especially within the independent section.
How did you choose your store name? Fenix was our daughter's screen name when she played video games and we liked it and knew it would work for the logo we had in mind, which we used in a previous business venture.
What superpower would you most like to have? Selective invisibility and the ability to use others' powers.
| | | |
| --- | --- | --- |
| Mystery boxes have been a success for Fenix | The Indie comics wall | DC's corner of the store |
| | | |
| Pop culture movies are typically shown for customers to check out | Marvel Comics wall | A colorful place to rest while companions are shopping |
| Erica shows off the colorful checkout area | Back issues | |
| | | |
| | | |